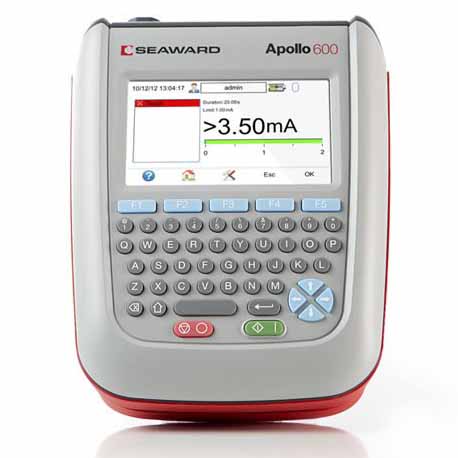 Seaward Apollo 600
Contact
PAT Tester
   The Apollo 600 is an all in one solution for risk based testing, offering a comprehensive range of safety tests, and features an on-board camera for full visual traceability. Only the Apollo 600 integrates PAT testing with risk assessment so you can comply with the latest IET Code of Practice.
PAT Tester        
Full suite of advanced electrical safety tests.
Risk Assessment
For any workplace hazard.
On-board Camera
Visual evidence to tag against records.
Health and Safety forms
Generates reports, certificates and invoices via PATGuard 3.
With built-in risk assessment tools for any workplace hazard and a variety of testing and inspection reports including portable appliance testing, fire detection and alarms and emergency lighting; Apollo 600 offers an all-in-one solution to managing a risk-based approach to health and safety in any workplace, reducing the burden and ensuring compliance. The Apollo 600 is the perfect solution for those looking to upgrade from the PrimeTest 350.
Remark
Please chck stock before purchase again
Not including delivery charge