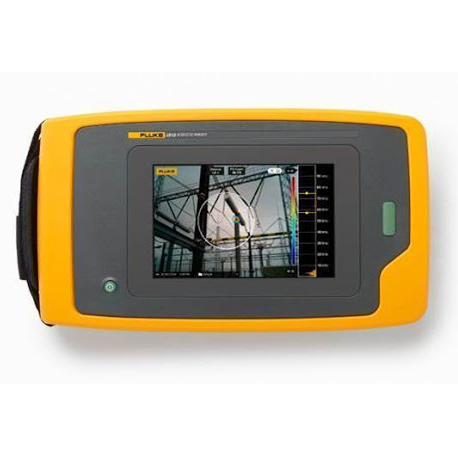 Fluke ii910
1,083,720.00 ฿ (Excluding vat 7%)
Precision Acoustic Imager
Fluke ii910 Precision Acoustic Imager - corona, partial discharge and gas detection made easier, faster and safer.
The Fluke ii910 Precision Acoustic Imager; our latest acoustic imager with higher sensitivity to find detect corona and partial discharge and the most challenging compressed gas, air and vacuum leaks.
Finally, an easy way to detect, locate and analyze partial discharge with
confidence.
Partial discharge is a very serious issue and often difficult to find. Whether you are inspecting insulators, transformers, switch gear or high voltage powerlines you need to be confident you can spot a problem in time to fix it long before it becomes catastrophic. Partial discharge that goes unchecked can cause blackouts, fires, explosions, or deadly arc flashes. There is a significant monetary risk of downtime.
The Fluke ii910 Precision Acoustic Imager enables you to:
Detect partial discharge early allowing for proper scheduling of maintenance. This increases uptime

Quickly and easily scan areas to find potential problems

Detect and analyze partial discharge from a safe distance

Cut costs and save energy everyday by taking the guesswork out of finding and fixing partial discharge
Features and Benefits
Partial discharge detection - ii910 allows to detect Corona and Partial Discharge (PD), even when there is no direct line of sight. The high sensitivity of ii910 allows you to detect PD at earlier stages, enabling condition-base maintenance and planning service of equipment (vs preventive replacing/servicing/cleaning)
SoundSight™ - With SoundSight™ technology the ii910 translates the sounds that it hears into a visual representation so that you can easily scan and quickly locate problem areas.
Ease of use - ii910 allows untrained users to detect, locate, and assess the severity of Partial Discharge, Corona Discharge or Gas/Vacuum leaks, easier, faster, and more effectively than existing Ultrasonic Tools, by using visual images to better pinpoint and report PD, Corona or Gas leak.
PDQ Mode™ - ii910 provides a relative severity of a discharge, that provides information to the user on whether action may or may not be needed after PD has been detected.
LeakQ™ - Estimate the size and cost of a leak Including a new distance-estimation feature and the 1-10 LeakQ™ severity index. Images can be uploaded to the online web to generate leak reports including leak size and cost estimation.
Target Industry
Industrial and Power Distribution

High Voltage Transmission Utility
Remark
Please chck stock before purchase again
Not including delivery charge