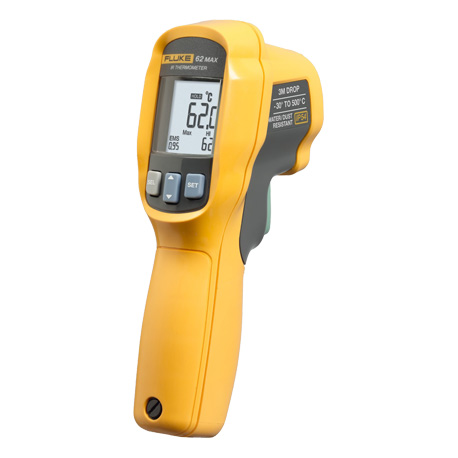 Fluke 62 MAX
3,761.00 ฿ 5,015.00 ฿ (Excluding vat 7%)
Infrared thermometers offer market-leading dust, water and drop protection
   Fluke Corporation, the global leader in portable electronic test 
and measurement technology, introduces the new Fluke® 62 Max 
Infrared Thermometers. These rugged, accurate, easy-to-use test 
tools are dust, water and drop resistant, making them ideal for 
the harsh conditions faced by technicians in electrical, service, 
HVAC, process, industrial and facilities maintenance applications.
The Fluke 62 Max delivers 
Rugged performance: Survives 9.8 foot/3 meter drops to 

wood floors.

Water and dust resistance: IP54 rated to withstand rain, 

splashing liquids, dust and dirt.

Small and easy to use: Small enough to carry comfortably 

on a tool belt all day, the digital thermometers measure 

with a trigger click and their multi-angle, backlit display 

make them easy to read.
   The Fluke 62 Max is ideal for quick temperature scans of systems 
to look for anything from unusual hot spots that signal electrical 
and electro-mechanical malfunctions to undesirable air intake/
output patterns in the building envelope. Because infrared 
measurement does not require making contact with the 
surface being measured, technicians can make the 
measurements from a distance, away from moving machinery 
or live electrical connections.
   The 62 Max has a distance-to-spot ratio of 10:1 and measures 
temperatures from 30°C to 500°C with an accuracy ± 1.5% of 
the reading. 
Remark
Please chck stock before purchase again
Not including delivery charge