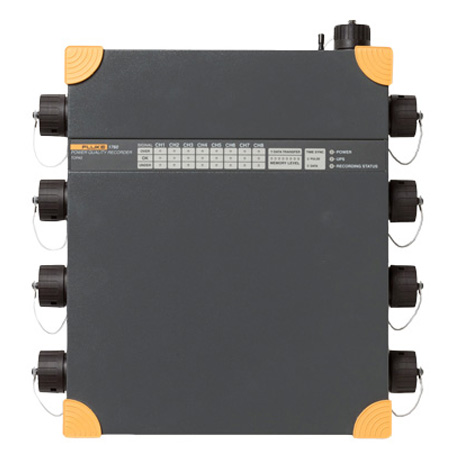 Fluke 1760 BASIC
872,468.00 ฿ (Excluding vat 7%)
Three-Phase Power Quality Recorder Topas
Class-A compliance for the most demanding power quality tests
     The Fluke 1760 Three-Phase Power Quality Recorder is fully compliant
to IEC 61000-4-30 Class-A, for advanced power quality analysis and 
consistent compliance testing. Designed for analysis of utility and 
industrial power distribution systems, in medium- and low-voltage 
networks, this power quality monitor provides the flexibility to customize thresholds, algorithms, and measurement selections. The 1760 power 
recorder captures the most comprehensive details on user-selected 
parameters
     Detailed disturbance analysis – Perform high-speed transient analysis 
and uncover root cause of equipment malfunction for later mitigation 
and predictive maintenance. The fast transient option, with its 6000 V measurement range, allows capture of very short impulses such as 
lightning strikes.
     Class-A quality-of-service compliance – Validate incoming power 
quality at the service entrance. Thanks to Class A compliance, the 
Fluke 1760 allows undisputable verification.
     Event correlation at multiple locations – Utilizing GPS time synchronization, 
users can quickly detect where a fault occurred first, either inside or 
outside the facility.
     Galvanic separation and DC coupling – Allows complete measurements 
on dissimilar power systems. For example troubleshoot UPS systems 
by simultaneously recording the battery voltage and power output.
     Power quality and power load studies – Assess baseline power quality 
to validate compatibility with critical systems before installation and 
verify electrical system capacity before adding loads.
Features
Fully Class-A compliant : Conduct tests according to the stringent international IEC 61000-4-30 Class-A standard

GPS time synchronization : Correlate data with events or datasets 

from other instruments with precision

Flexible and fully configurable thresholds and scale factors : 

Allows user to pinpoint specific issues by defining the detailed 

criteria for detection and recording of disturbances.

Uninterrupted power supply (40 minutes) : Never miss important 

events - even record the beginning and end of interruptions 

and outages to help determine the cause

10 MHz, 6000 Vpk waveform capture : Get a detailed picture 

of even the shortest event

2 GB data memory : Enables detailed, simultaneous recording 

of numerous power parameters for long periods of time

Comprehensive software included : Provides trend diagrams for 

root cause analysis, statistical summaries, report writing and 

real-time data monitoring in the online mode

Plug and play : Allows quick setup with automatic sensor 

detection; sensors are instrument powered, eliminating the 

need for batteries

Rugged field design : Insulated housing and a solid state 

design with no rotating components enable reliable testing 

under nearly any conditions
Remark
Please chck stock before purchase again
Not including delivery charge