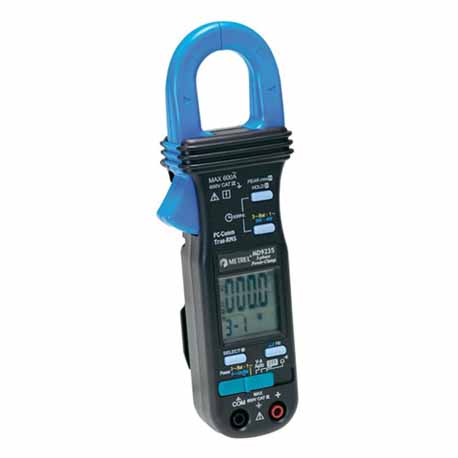 Metrel MD 9235
8,050.00 ฿ (Excluding vat 7%)
True RMS Power Clamp Meter
The MD 9235 is a Slim-Jaw current clamp meter with ability to measure 3-Phase Unbalanced-Load + kWHr recording. The MD 9235 enables True RMS AC current measurement up to 600 A, single and 3-phase power analysis, total power factor and resistance measurement. 
Key Features
Slim-Jaws : ultra-slim jaws to access tight places.

True RMS : accurate measurements on sinusoidal and non-sinusoidal signals.

kWHr : Kilo-Watt-Hour recording function (with memory recal).

Peak Hold : peak hold feature displays maximum RMS value of surge voltage or current.

Jaw size : 26 mm.

Transient protection : it protects user in case of lightning strike or switching surge up to 6.5 Kv.

PC Link : test results can be downloaded to the computer via the optional PC software.

Hold : data hold function freezes the display for later view.

Safe : CAT IV / 300 V, CAT III / 600 V overvoltage protection.
Test Functions
True RMS AC, DC voltage measurement

True RMS AC current measurement

Resistance measurement

Frequency measurement

Continuity test (acoustic signaling)

Power parameters measurement