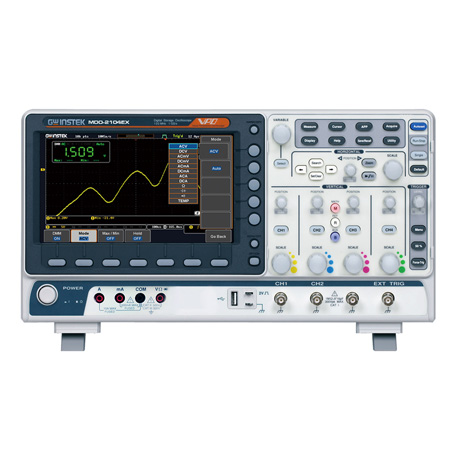 GW Instek MDO-2000E Series
Contact
Multi-Functional Mixed Domain Oscilloscope
   MDO-2000E series is multi-functional mixed domain oscilloscope. The series includes two feature combinations : MDO-2000EG and MDO-2000EX. MDO-2000EG models have a built-in spectrum analyzer and a dual channel 25MHz arbitrary waveform generator and MDO-2000EX models feature a built-in a spectrum analyzer, arbitrary waveform generator, a 5,000 count DMM, and a 5V/1A power supply. The first of its kind, MDO-2000EX is the only oscilloscope to equip with a DMM and a power supply in the T&M industry.
One Oscilloscope, Two Domains.
Meet your signal analysis requirements on both Time domain and Frequency domain.
Features
200/100/70MHz bandwidth selections ; 2 or 4 channels

Real time sample rate for each channel is 1GSa/s (2 channel models) Maximum real time sample rate is 1GSa/s (4 channel models)

Per Channel 10M memory depth and VPO waveform display technology

Waveform update rate up to 120,000 wfms/s

8 " WVGA TFT LCD display

Maximum 1M FFT provides higher frequency domain resolution measurements

High ,low and band pass filter functions

29,000 segmented memories and waveform search functions

I2C/SPI/UART/CAN/LIN serial bus trigger and decoding function

Data log function is able to track signal changes up to 1000 hours

Network storage function

Mask test function

MDO-2000EG equips with a spectrum analyzer and a dual c hannel 25MHz AWG

MDO-2000EX equips with a spectrum analyzer ; a dual channel 25MHz AWG; DMM and power supply.

Spectrum Analyzer DC-500MHz

2 Channael Arbitrary waveform generator 25 MHz

Standard waveform generator 25 MHz

5,000 count DMM
Remark
Please chck stock before purchase again
Not including delivery charge