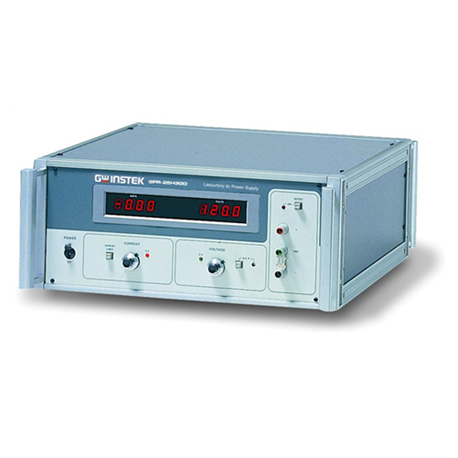 GW Instek GPR-U Series
Contact
500 to 900W Single Output Linear DC Power Supply
   The GPR-U Series are single output, 500W to 900W, linear DC power supply. Overload and reverse polarity protection, in addition to the standard OVP / OCP / OTP, protects the GPR-U Series and their load from unexpected conditions. High regulation and low ripple/noise are maintained at 0.01% and < 2mVrms, respectively for CV mode.
   The GPR-U Series can be ordered with a customized output requirement from voltages ranging from 8V to 1000V and currents ranging from 0.5A to 75A (under 1kVA available). The GPR-U Series are ideal lineup for system applications requiring large output capacity or custom made output settings, such as material testing and product copper plating.
Features
01% High Regulation.

Constant Voltage and Constant Current operation.

Low Ripple and Noise.

Overload and Reverse Polarity protection.

3-1/2 Digits 0.5-inch LED Display.

Application for Material and Products Aging.

Built-in Overvoltage and Overcurrent Tripped Crowbar.

Ten-Turn Potentiometer.
Remark
Please chck stock before purchase again
Not including delivery charge