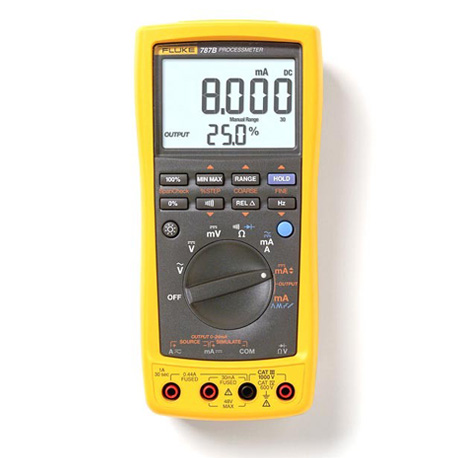 Fluke 787B
32,353.00 ฿ 40,441.00 ฿ (Excluding vat 7%)
   The Fluke 787B ProcessMeter/DMM/Loop Calibrator with Fluke 
Connect doubles troubleshooting capabilities by combining the power 
of a safety-rated digital multimeter and mA loop calibrator into a single, 
compact test tool. Whether you only need to source and simulate mA, 
or need a 24V loop power supply, Fluke has a ProcessMeter test tool 
designed specifically to meet your needs. Add the ability to measure, 
source and simulate mA with the accuracy and resolution you would 
expect from a Fluke mA loop calibrator, giving you the ideal tool for 
troubleshooting and calibrating current loop applications.
Features
20mA DC current source/measure/simulate

Simultaneous mA and % of scale readout

DMM designed to meet 1000V IEC 61010 CAT III and 600V 

CAT IV standards

Fluke Connect compatibility for wireless data logging

Precision 1000V, 440mArms digital multimeter

Frequency: 20 kHz

Min/Max/Average/Hold/Relative modes

Diode test and continuity beeper

Manual step (100 %, 25 %, Coarse, Fine) plus Auto Step 

and Auto Ramp

Externally accessible battery for easy battery changes
Remark
Please chck stock before purchase again
Not including delivery charge