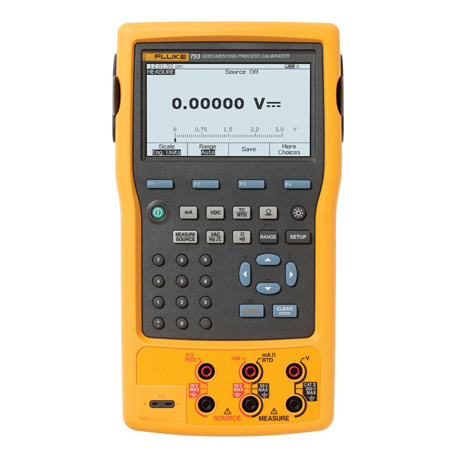 Fluke 753
297,001.00 ฿ (Excluding vat 7%)
Documenting Process Calibrator
   Fluke has taken its popular 743 Documenting Process Calibrators 
and improved them. And you're going to love the results. The new 
Fluke 753 give you an easier to read screen, newer software, 
improved battery life, USB ports, and more.
Increased accuracy and enhanced reliability, 99.7% (K=3) 
confidence level.
   Fluke 750 Series automate calibration procedures and captures
field calibration data. Download calibration procedures, lists, 
andinstructions to the calibrator and upload calibration information 
gathered in the field for printing, archiving and analysis. it helps 
you meet rigorous standards like ISO 9000, FDA, EPA and OSHA 
regulations.
Features of the Fluke 753
Measure volts, mA, RTDs, thermocouples, frequency, and 

ohms to test sensors, transmitters and other instruments

Source/simulate volts, mA, thermocouples , RTDs, frequency, 

ohms, and pressure to calibrate transmitters

Power transmitters during test using loop supply with 

simultaneous mA measurement

Measure/source pressure using any of 29 Fluke pressure 

modules

Advanced features like autostep, custom units, user entered 

values during test, one-point and two-point switch testing, 

square root DP flow testing, programmable measurement 

delay and more
Remark
Please chck stock before purchase again
Not including delivery charge