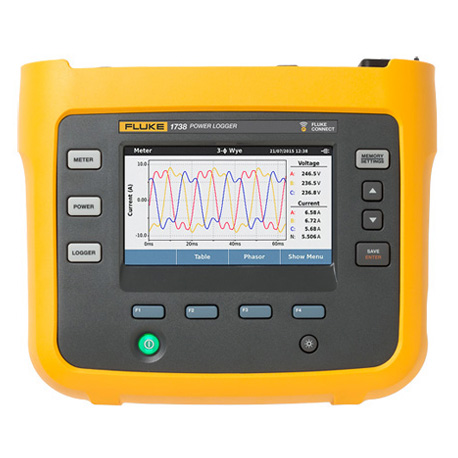 Fluke 1738/INTL
292,005.00 ฿ (Excluding vat 7%)
Three-Phase Power Loggers
Features
Key measurements : Automaticall­y capture and log voltage, current, power, harmonics and associated power quality values.

Fluke Connect® compatible* : View data locally on the instrument, via Fluke Connect mobile app and desktop software or through your facilities WiFi infrastructure.

Convenient instrument powering : Power instrument directly from the measured circuit.

Highest safety rating in the industry : 600 V CAT IV/1000 V CAT III rated for use at the service entrance and downstream.

Measure all three phases and neutral : With included 4 flexible current probes.

Comprehensive logging : More than 20 separate logging sessions can be stored on the instruments. In fact, all measured values are automatically logged so you never loose measurement trends. They can even be reviewed during logging sessions and before downloading for real-time analysis.

Capture dips, swells, and inrush currents : Includes event waveform snapshot and high resolution RMS profile, along with date, timestamp and severity to help pinpoint potential root causes of power quality issues.

Power Quality Health Summary : Summarizes the most important power quality health parameters to provide fast insight into overall electrical system health, indicating whether more detailed analysis and reporting should be done.

Bright, color touch screen : Perform convenient in-the-field analysis and data checks with full graphical display.

Optimized user interface : Capture the right data every time with quick, guided, graphical setup and reduce uncertainty about your connections with the intelligent verification function.

Complete "in-the-field" setup through the front panel or Fluke Connect App : No need to return to the workshop for download and setup or to take a computer to the electrical panel.

Fully integrated logging : Connect other Fluke Connect devices to the Fluke 1738 to simultaneously log up to two other measurement parameters, virtually any parameter available on a Fluke Connect wireless digital multimeter.*

Energy Analyze Plus application software : Download and analyze every detail of energy consumption and power quality state of health with our automated reporting.
Remark
Please chck stock before purchase again
Not including delivery charge