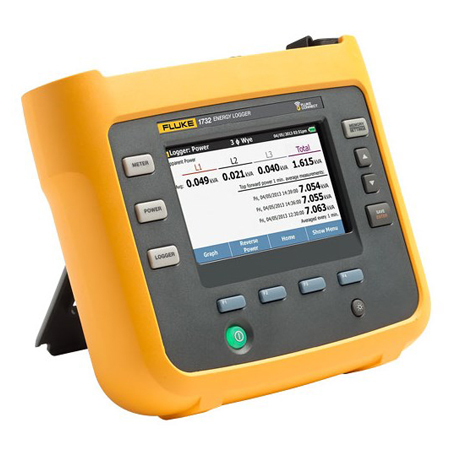 Fluke 1732/INTL
195,351.00 ฿ (Excluding vat 7%)
Three-Phase Electrical Energy Loggers
  The Fluke 1732 Three-Phase Electrical Energy loggers introduce a 
new simplicity to discovering sources of electrical energy waste. 
Discover when and where energy in your facility is being consumed; 
from the service entrance to individual circuits. Access and share 
data remotely with your team via the Fluke Connect® app so you 
can maintain safer working distances and make critical decisions in 
real-time, reducing the need for protective equipment, site visits and 
check-ins.
   Profiling energy usage across your facility helps you identify 
opportunities for energy savings, and provides you with the data 
you need to act on them. The new Energy Analyze software package 
allows you to compare multiple data points over time to build a 
complete picture of energy usage, which is the first step to reduce 
the cost of your energy bill.
Features
Key measurements: Automatically capture and log voltage, 

current, power, power factor, energy and associated values

Fluke Connect® compatible: View data locally on the 

instrument, via Fluke Connect mobile app and desktop 

software or through your facilities' WiFi infrastructure

Convenient instrument powering: Power instrument directly 

from the measured circuit

Highest safety rating in the industry: 600 V CAT IV/1000 V 

CAT III rated for use at the service entrance and downstream

Measure all three phases: With included 3 flexible current 

probes

Comprehensive logging: More than 20 separate logging 

sessions can be stored on the instruments. In fact, all measured 

values are automatically logged so you never loose measurement 

trends. They can even be reviewed during logging sessions 

and before downloading for real-time analysis

Optimized user interface: Quick, guided, graphical setup ensures 

you're capturing the right data every time, and the intelligent 

verification function indicates correct connections have been 

made, reducing user uncertainty

Bright, color touch screen: Perform convenient in-the-field 

analysis and data checks with full graphical display

Optimized user interface: Capture the right data every time 

with quick, guided, graphical setup and reduce uncertainty 

about your connections with the intelligent verification function

Complete "in-the-field" setup through the front panel or Fluke 

Connect: No need to return to the workshop for download and 

setup or to take a computer to the electrical panel

Energy Analyze Plus application software: Download and analyze 

every detail of energy consumption with our automated reporting
Remark
Please chck stock before purchase again
Not including delivery charge