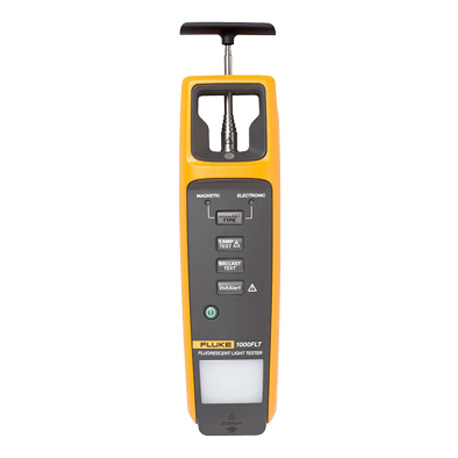 Fluke 1000FLT
12,017.70 ฿ 13,353.00 ฿ (Excluding vat 7%)
    Performs all essential lamp tests in less than 30 seconds Maintaining fluorescent lamps tends to be a trial-and-error process. Bulbs not lit? Climb the ladder and replace them. Still not lit? Go back up the ladder and replace the ballast. Still not lit? Climb the ladder one more time. It's tedious, time-consuming, and inefficient, plus any time workers climb ladders there are potential safety issues. 
    The Fluke® 1000FLT Fluorescent Light Tester eliminates the guesswork of maintaining fluorescent lamps by performing all the essential tests on lamps in less than 30seconds: lamp tester, ballast tester, non-contact voltage detector, pin continuity tester, and ballast discriminator. The 1000FLT eliminates trial, error, and rework, and reduces the time maintenance teams spend fixing lights. 
    The point-and-shoot ballast discriminator in the1000FLT speeds the replacement of old magnetic ballasts with new energy-efficient electronic models by quickly identifying exactly what type of ballast is in the fixture before they climb the ladder. There is no need to remove the bulbs or to make contact with live circuitry. Simply point the 1000FLT fluorescent light tester at the glowing bulb and determine the ballast type. 
The tester comes with a rugged, metal test rod that extends up to 31 inches (79 cm) eliminating the need to climb a ladder for many tests, and a belt-style holster so the tester is always within easy reach. 
Remark
Please chck stock before purchase again
Not including delivery charge