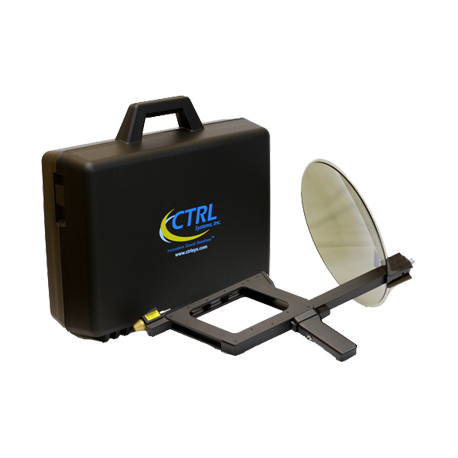 CTRL PowerBeam 300
Contact
This UL101 add-on helps to maintain safe distances from test areas. The parabolic design increases the capabilities of the UL101 by allowing it to detect ultrasound from up to 300 feet away.
Combining the features of the already proven CTRL UL101 with extended range and sensing capabilities, the PowerBeam 300 provides enhanced ultrasonic detection. A pistol-like grip, laser pointer, and rifle sights make the PowerBeam easy to handle and use.
Features
Pistol type detector with fixed frequency response range.

Detects ultrasound up to 300 feet.

Laser pointer and rifle sight for accurate pinpointing.

Narrow beam of reception allows differentiation between various sources of ultrasound signals.

Extruded aluminum frame maximizes life in harsh environments.

No calibration. No special maintenance. Simple controls to adjust sensitivity.

Uses two standard AAA alkaline batteries to supply power to the laser. No recharging necessary.
Remark
Please chck stock before purchase again
Not including delivery charge