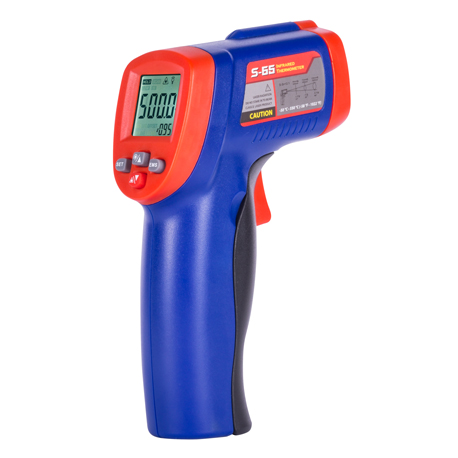 VOLTH S-65
1,900.00 ฿ (Excluding vat 7%)
Infrared Thermometer Compact size for all Hot and Cold
The VOLTH S-65, Infrared thermometer is used for measuring the temperature of the object's surface, wich is applicable for various hot, hazardous or hard-to-reach objects without contact safety and quickly.
This unit consist of Optics, Temperature Sensor Signal amplifier, 
Processing circuit and LCD Display. The Optics collected the infrared 
energy emitted by object and focus onto the Sensor. Then the 
sensor translates the energy into an electricity signal. This signal 
will be turned out to be digital shown on the LCD after the signal 
amplifier and processing circuit.
Features
Hot Water Pipes

Hot Engine Parts

Cooking Surfaces

Hot Tubes & Insulation

Eletctrical Connection

Ballasts In Electric Lights

Electric Motors & Bearings

Wine Coolers & Hot Asphalt

Fuse Panels & Transformers

Swimming Pools & Fish Tanks

Hot & Cold Food Products

Heating & Air Conditioning
Specifications
Measuring range: -50~550°C (-58~1022°F)

Accuracy: ±1.5°C / ±1.5%

Resolution: 0.1°C or 0.1°F

Distance spot ratio: 12:1

Emissivity: 0.10~1.00 Adjustable (0.95 Preset)

MAX/MIN/AVG/DIF reading

°C / °F unit selectable

Auto power off & Data Hold

Hight/Low temperature alarm setup

Laser ON/OFF selectable

Backlight ON/OFF selectable

Use one standard 9V battery
Remark
Please chck stock before purchase again
Not including delivery charge