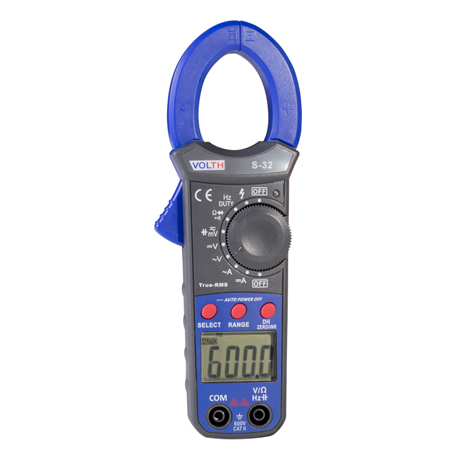 VOLTH S-32
3,900.00 ฿ (Excluding vat 7%)
Mini True-RMS AC/DC Clamp Meter 
Compact size for all work
VOLTH S-32 adopts high-performance MCU processor. It is Great Value as has high reliability, security, automatically setting range function, handheld clamp meter etc.
The product has a large digital display, full range overload protection, data-hold function, under voltage indication, auto shut off function, it has TRUE RMS measurement function which can accurately measure frequency voltage, non-sinusoidal voltage and inrush current measurement function which can measure inrush current about 80mS RMS, the in strument is suitable for frequency-converting power supply, motor performance test, The function to measure DC current range up to DC 40A/400A/600A, which is widely used in electroplating, DC welding machine, motor vehicle test and all kinds of DC 500mA current measurement. It is more excellent for a new generation of practical electrical measuring instrument.
This product is ideal instrument for test, maintenance and repairs in college, smelting, communications, manufacturing, petroleum, electric power, national defense, electronic, electric power equipment.
Features
True RMS

AC/DC Voltage 600V

AC/DC Current 600A

Resistance, Continuity, Diode check

Capacitance up to 10,000uF

40MHz frequency with %Duty

Digital display 3999 counts

30mm Jaw opening

INRUSH current

Data Hold function

MAX/MIN function

Auto Power O­ff

Low battery indication

Backlight Display
Remark
Please chck stock before purchase again
Not including delivery charge