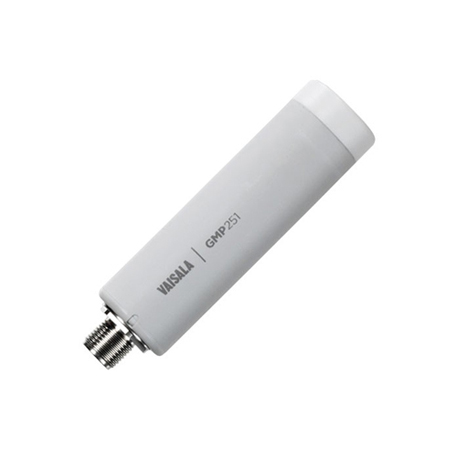 Vaisala GMP251
Contact
Carbon Dioxide Probe for % Level Measurements
   The Vaisala CARBOCAP® Carbon Dioxide Probe GMP251 is an intelligent, stand-alone, %-level probe for measuring CO2 in life science incubators, cold storages, fruit and vegetable transportation, and in all demanding applications where stable and accurate %-level CO2 measurements are needed.
The GMP251 is based on Vaisala's unique, second-generation CARBOCAP® technology that enables exceptional stability. A new type of infrared (IR) light source is used instead of the traditional incandescent light bulb, which extends the lifetime of the GMP251.
The GMP251 probe can be connected to the Indigo 200 Series host devices to extend its features, for example, for a display or relays.
Features
Measurement range 0 … 20 % CO2

Intelligent, stand-alone probe with analog (V, mA) and digital (RS485) outputs

Superior long-term stability with the 2nd-gen proprietary CARBOCAP® technology

Wide operating temperature range -40 … +60 °C

IP65 classified housing

Full temperature and pressure compensations

Integrated temperature measurement for CO2 compensation purposes

Compensations for background gases, O2, and humidity

Sensor head heated to prevent condensation

Applications : life science incubators, cold storages, fruit and vegetable transportation
Remark
Please chck stock before purchase again
Not including delivery charge