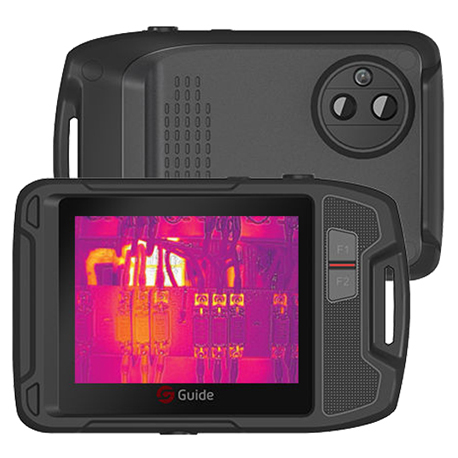 Guide Sensmart P120V
15,900.00 ฿ (Excluding vat 7%)
Pocket-Sized Thermal Camera
P120V Pocket-sized Thermal Camera designed for electrical equipment maintenance and building inspection, which can fast detect the potential problems, report repair data and share images by Wi-Fi. It is a truly handy thermal camera that fits in your pockets for fast and accurate thermal inspections anytime. P120V featured with 3.5-inch LCD touchscreen for simple operation, and support picture-in-picture, smooth zoom, max and min temperature alarm, Cloud Service and more.
-20℃-400℃ wide measurement range Auto switching between-20℃-150℃ and 150℃-400℃
Reasonable Layout and Good Ergonomic Design No interfere between lens area and grip area
3.5" Touchscreen Display High-brightness LCD, 320 x 240 pixels
Android Platform, Intelligent Operation User-friendly design based on Android system, which is as simple as using a smartphone
Wi-Fi connectivity , support Cloud Service Wi-Fi connectivity enabled for remote control and instant sharing. And support Cloud Album, you can back up the images to the Cloud in real-time.
Remark
Please chck stock before purchase again
Not including delivery charge