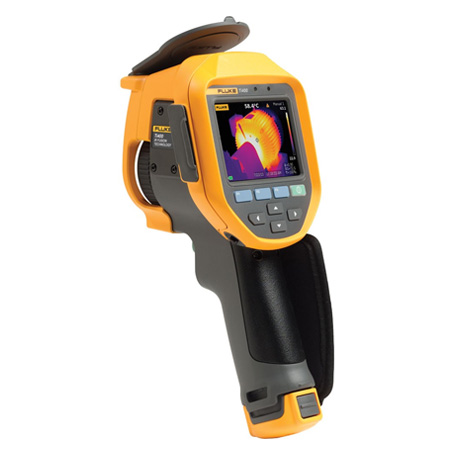 Fluke Ti400
389,112.00 ฿
Advanced Performance Infrared Cameras
Reliability matters. Image quality matters. Performance matters.
Fluke Ti400 Range -20 °C to +1200 °C, Detector 320 x 240 
pixels, Sensitivity ≤ 0.05 °C
* With SuperResolution Mode
   This four of new Fluke infrared cameras is equipped with 
LaserSharpTM Auto Focus. Yes, there are other auto focus 
systems on the market but Fluke took it one step further so 
you get in-focused images, Every. Single. Time. Every 
infrared camera user knows that focus is the single most 
important thing to ensure when conducting an infrared inspection.
   Without an in-focus image temperature measurements may 
not be accurate and it's much easier to miss a problem. 
LaserSharp auto focus tells you exactly where you are focusing. 
It uses a laser to calculate the distance to your target before 
it focuses. Place the red laser dot on the object you are 
inspecting, then pull and release the trigger for a perfect 
in-focus image.
Capture up to five additional measurements with CNXTM 

Wireless System for more complete analysis and reporting

Detect and communicate issues faster with patented Fluke 

IR-Fusion® technology with AutoBlendTM mode

Faster communication with wireless image transfer directly 

to your PC, Apple® iPhone® or iPad®

One-handed, easy-to-use user interface

Ruggedized high resolution 640x480 capacitive touch screen 

for quick menu navigation

Capture additional digital images to show location or additional 

site details with IR-PhotoNotes™ Annotation System

Standard and radiometric video recording

Streaming video (USB and HDMI)

Text and voice recording and annotation gets additional 

details saved with the image file

Optional interchangeable lenses for greater flexibility 

in additional applications

High-temperature measurement (up to 1200 °C on the Ti400)

Included SmartView® and SmartView Mobile App Analysis 

and Reporting Software

Compatible with Fluke Connect®, the largest suite of 

connected test tools in the world
Remark  Please identify each quotation when ordering.