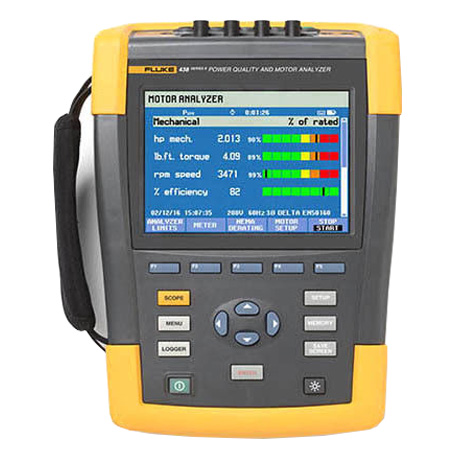 Fluke 438-II
491,975.00 ฿ (Excluding vat 7%)
Power Quality and Motor Analyzer
   The Fluke 438-II Power Quality and Motor Analyzer adds key 
mechanical measurement capabilities for electric motors to the 
advanced power quality analysis functions of the Fluke 435 Series II 
Power Quality Analyzers. Quickly and easily measure and analyze 
key electrical and mechanical performance parameters such as power, 
harmonics, unbalance, motor speed, torque and mechanical power 
without the need of mechanical sensors. Fluke 434-II, 435-II and 
437-II Power Quality Analyzer users can add motor analysis 
capabilities to their existing units with the Fluke-438-II/MA Motor 
Analyzer upgrade kit.
 The ideal portable motor analysis test tool, the 438-II can help 
locate, predict, prevent, and troubleshoot power quality problems in 
three-phase and single-phase power distribution systems, while giving
technicians the mechanical and electrical information they need to 
effectively evaluate motor performance.
Measure key parameters on direct-on-line motors including 

torque, RPM, mechanical power and motor efficiency

Perform dynamic motor analysis by plotting of motor derating 

factor against load according to NEMA/IEC guidelines

Calculate mechanical power and efficiency without the need 

of mechanical sensors, just connect to the input conductors 

and you're ready to go

Measure electrical power parameters such as voltage, 

current, power, apparent power, power factor, harmonic 

distortion and unbalance to identify characteristics that 

impact motor efficiency

Identify power quality issues such as dips, swells, transients, 

harmonics and unbalance

PowerWave data technology captures fast RMS data, and 

shows half-cycle averages and waveforms to characterize 

electrical system dynamics (generator start-ups, UPS 

switching etc.)

Waveform capture function captures 100/120 cycles 

(50/60 Hz) of each event detected event, in all modes, 

without set-up

Automatic transient mode captures waveform data at 

200 kS/s on all phases simultaneously up to 6 kV

Fluke Connect® compatible* – view data locally on the 

instrument, via Fluke Connect mobile app and PowerLog 

430-II desktop software

Safety rated for industrial applications 600 V CAT IV/1000 V 

CAT III rated for use at the service entrance and downstream
Electrical motor analysis
   The Fluke 438-II provides a complete breakdown of electrical 
parameters. Prior to beginning motor analysis, it's recommended 
to make base line power quality measurements to assess the state 
of harmonics and unbalance on the electrical service output as 
these two properties can have a serious negative impact, on motor 
performance.
   When in Motor Analysis mode, results are summarized for electrical 
performance, mechanical performance and derating (according to NEMA 
recommendations). The easy to understand four-level color severity 
scale indicates motor performance in relation to the recommended 
electrical parameter levels including rated power, power factor, 
unbalance and harmonics.
  For mechanical power you can instantly view the mechanical output 
power along with motor torque and speed. The mechanical output 
power is instantly compared with electrical power to provide you 
with live efficiency measurements. With this feature you can easily 
measure machine performance during each operation cycle.
  The NEMA derating screen is updated as the load and the electrical 
conditions change, and each new measurement is plotted on the 
tolerance graph as a "+". In this example we can see that motor is 
within tolerance but is close to the service factor. This indicates that 
there may be a need for power quality mitigation, motor maintenance 
or some other performance improving adjustment.
 By frequently performing these tests over time, known benchmarks 
and performance trends can be created, enabling informed 
maintenance investment decisions.
Brochure download
https://drive.google.com/open?id=1W1TgVpGdafr0IFhWwGuNVWAAihwXOEq3
Remark
Please chck stock before purchase again
Not including delivery charge