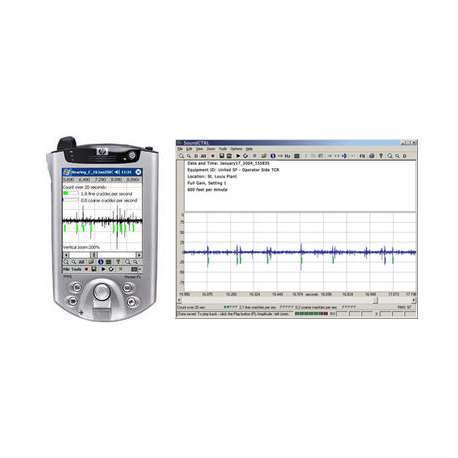 CTRL SoundCTRL
Contact
The SoundCTRL Equipment Condition Analysis System provides maintenance personnel with the capability to better monitor, evaluate, and diagnose the condition of critical mechanical equipment. Unplanned downtime and lost production can be avoided with this state-of-the-art system.
The handheld SoundCTRL System connects directly to the CTRL UL101 receiver for an easy one-step inspection-collection process. SoundCTRL recognizes the ultrasonic signals received by the CTRL UL101 and provides immediate display and analysis of sound characteristics to help determine the condition of the component under test.
Features
Data capture and comparison for upload to web-based management system.

Handheld system with state-of-the-art full function Pocket PC and InCTRL integration capability.

Unique sound recognition and analysis software.

Audio and visual signal recording and retrieval.

Comparative analysis and trending capability.

Ultrasonic signal capture (20 sec. recording) and automatic real-time waveform display.

Equipment Identification for easy component tracking and file retrieval.

Comment fields for storing critical equipment information such as operating condition and test settings.

Root mean square (RMS) calculation.

Analysis of sound characteristics for identification of potential component faults.

User-friendly menus and controls.
Remark
Please chck stock before purchase again
Not including delivery charge