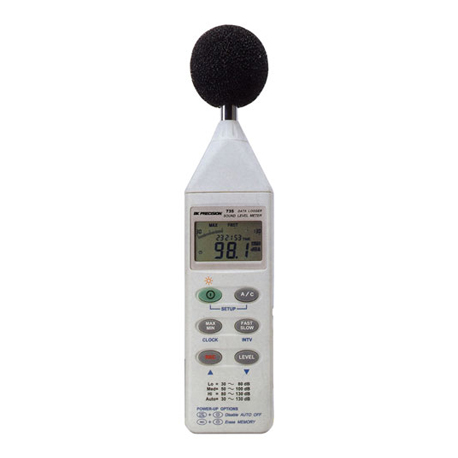 BK Precision 735
Datalogging Digital Sound Level Meter with RS-232 Software and Cable
     Whether you are testing for OSHA compliance, quieting equipment, or monitoring the roar of a stadium crowd, B&K Precision's Sound Level Meters can get the job done. The model 735 Sound Level Meter provides 30~130 dB capability in three convenient measurement ranges Low, Med and Hi with an accuracy of ±1.5 dB. The meter meets the IEC 651 Type II and includes frequency weighting A & C and fast and slow time weighting. Two auxiliary ports provide either AC output, 1Vrms full scale, or DC output, 10mV /dB. With the model 735, B&K Precision can meet all your sound testing needs.
Windows Software Included

Clock Display

32,000 Records Data Logger

RS-232 Interface (not compatible with USB converters)

Bargraph

MAX/MIN function

Auto Ranging (30 ~ 130dB)

Resolution 0.1dB

Level Range Display

AC/DC Signal Output

Auto Power Off

Backlit LCD
Remark  Please identify each quotation when ordering.